OPTIMIZING GOVERNANCE IN FAR FROM OPTIMAL TIMES
WEBINAR RECORDED LIVE WITH TOM ABBOTT
In this recording Tom Abbott, Managing Director of AMC NPO Solutions shares how to adapt your strategic plan and governance to meet your associations changing needs.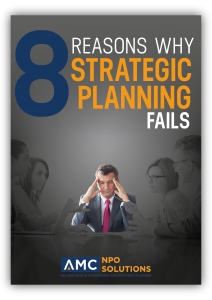 Download 8 Reasons Why Strategic Planning Fails
Download the cheatsheet from the webinar laying out the fundamentals of strategic planning.
Download the CheatsheetSub Text
Let Us Help You Adapt to the New Normal
If you need help with strategic planning or implementing the Complementary Model of Board Governance at your Association, drop us an email and we're happy to discuss different options with you.
More About The Comp ModelSub TextMore About Strategic PlanningSub Text
Copyright © AMC NPO Solutions. All Right Reserved.